non GMO month!
Joining with the
Non GMO Project
in celebrating a person's right to know!
Fresh Young Ginger!
We have beautiful fresh young ginger from Old Friends Farm. Organic, of course!
Fresh Homemade Foods are Back!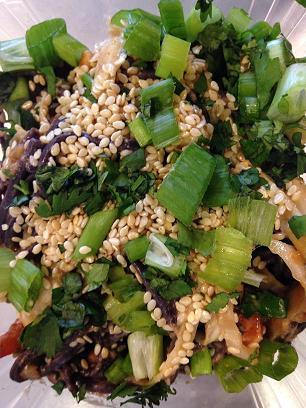 Cornucopia fresh deli items are back! We're starting off with Sesame Peanut Noodles on Cabbage Slaw! Made with black rice noodles, they are gluten-free, vegan and delicious.
No Jet Lag
No Jet Lag is back on our shelves, just in time for your next trip!
Andalou Naturals
Cornucopia Skin Care is proud to introduce Andalou Naturals! Founded in 2011, Andalou is a leader in organic science, Andalou Naturals utilizes Fruit Stem Cells for healthy skin, hair, and body care. This month all Andalou products are 25% Off!
Heavenly Chocolates
Visit www.heavenly-chocolate.com, where our handmade artisan chocolates, recently featured in the Boston Globe, can be ordered online and shipped anywhere in the continental United States!
Become a Fan!
Cornucopia on Twitter
No More Plastic Bags!
Paper or plastic? Well, how about neither! Cornucopia is excited to be a participant in "Bag Share."
A man, a dream, a sincere commitment to natural foods.